August 16, 2020
Posted by:

admin

Category:

news, Uncategorized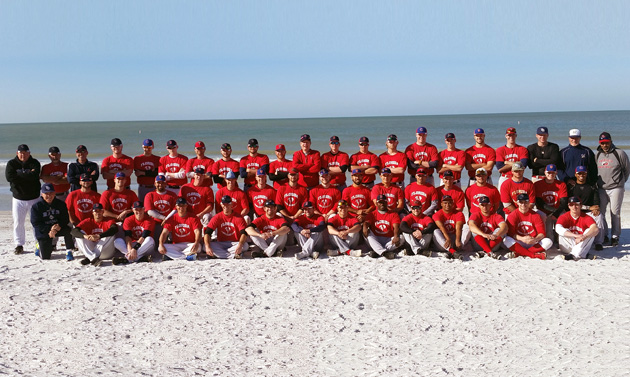 The Florida Minor League Camp is ready to receive applications for its 10th great year as the nation's best "instruction based" off season program designed to get you better for the upcoming 2021 minor league season that will run February 5-14, 2022. With the elimination affiliated baseball teams this year, the Independent baseball world is we be looked upon for players more than ever before including the Pioneer League which is now an Indy League in 2022. We sent players to the Pioneer League in 2021 that were amongst the best they had. It is beneficial not only to players that need a job, but for players currently under independent league contracts that want to upgrade their skills while being scouted on site by MLB teams to land an affiliated job. We have had players get affiliated jobs, like outfield Brandon Cummins, Jarod Wright(2021 camp) with the Cubs and Mitchell Osnowitz with the Cardinals Florida Minor League Camp and is currently doing well in the Twin's AA team. Florida Minor League attendee Garrett Harris, was the starting pitcher in the 2019 Can Am League vs. Frontier League All Star Game. "There were many tips from the Florida Minor League Camp that helped me make the adjustments and turn me into a complete pitcher", said Harris prior to his All Star Game start.
The Florida Minor League Camp has gotten over 61% of its attendee's jobs in six different Independent Leagues as well as affiliated MLB teams including our 2015 Indy Pro Showcase attendee Nick Anderson of the Tampa Bay Rays who is regarded as one of the best relievers in the game and we got him a job at age 24 and a half(https://www.usatoday.com/story/sports/mlb/2020/10/23/rays-nick-anderson-road-probation-independent-ball-world-series/3729287001/) . The design of this camp is to instruct and be evaluated by some of the best past and current MLB players, scouts, trainers, and coaches in the game. Mitchell Stumpo from D-3 Guilford College signed with the Dbacks at our IPS event in 2019 and is now with their AAA team in Reno. Mitchell Stumpo said, " I was a D-3 player with a small window of opportunity and now playing AAA with the Dbacks, Nick's event allowed me to begin my pro career. Without it I wouldn't have this chance and wouldn't be here today without Nick Belmonte and Kash Beauchamp".
The list of instructors, MLB scouts and guest instructors over the last 6 years include Bucky Dent(Yankees), David Eckstein (World Series MVP), Dave Cash(Pirates All Star), Curtis Granderson(MLB All Star), Hal Lanier (former NL Mgr of the Year), Rick Eckstein(MLB hitting coach Nationals), Marv Foley(catching coordinator Rockies considered the best in the game), Jaymie Bane(Red Sox), Brian Peterson(Tigers), Darnell Coles(MLB hitting coach Brewers), Andy Barkett (MLB hitting coach Red Sox), Chris Carminucci(DBacks) and Mark Brewer (pitching coach Rockies), Cecil Fielder MLB great, Marc Valdes(pitching coach Mets), Jim Riggleman(Reds MLB Mgr), to name just a few, giving you the greatest value for your hard earned money.
This camp is designed for a very limited number to ensure the success that each player will have, learning, playing, and benefiting from, this amazing off-season experience.
For further information please call 813-926-7622 or email floridaminorleaguecamp@yahoo.com . Do not delay so you won't get shutout of this once in a lifetime opportunity. I will personally see you to it will leave us better in all facets of your game then when you arrived. This is my promise to you.
Nick Belmonte
Owner/Director Florida Minor League Camp
https://www.usatoday.com/story/sports/mlb/2020/10/23/rays-nick-anderson-road-probation-independent-ball-world-series/3729287001/
Alejandro Rivero, who we got a job for in 2021, was a "Star" in Boise in the Pioneer League. Read his story: